Where did September go?  We are currently wrapping up the fifth week of school.
These pictures are from summer, the season I am currently missing.
One of those glorious days where we took a little trip to visit Lake Michigan with my family.  Hayden and Maddy loved playing in the water  at a park I grew up at.  We spent over an hour just puttering around collecting rocks, the kids could have done this for hours.
I am missing family and the freedom summer brings.  I know routines are good.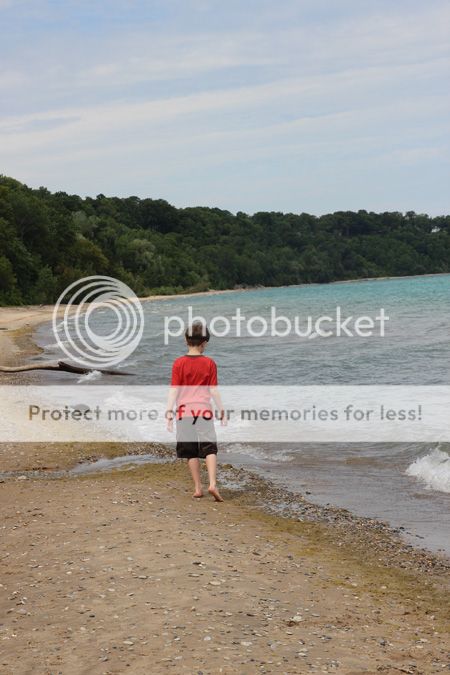 Maddy is home for the third day in a row with a terrible fever, horrendous cough that has left her hoarse.
Good times, this may be why I am missing summer.
Homework battles are being worked out.  I have a rule that homework is done after school before play.  It just doesn't work to give him a break, he just gets more tired.  I can't blame him.  Hayden is good about doing it right away, maybe because he has learned it isn't negotiable.  But sometimes he's not so happy with the amount or the fact that I do look it over.  Am I the only one who looks at math?  The word hate and me came up last night, that could be another reason I am missing summer.  He apologized without being asked later, but it sticks with me.
My mom has said that we just did our homework.   I love you mom, but I think you must just not remember anymore.  Time has a way of  warping our perspectives right?  Like take for instance the baby years, I love babies, I miss My babies, but I also think I have forgotten what it is like to be truly sleep deprived.  It wasn't too long ago Maddy used to rise and shine every morning by 5 am.  I remember not loving those moments but I would go back in a hot minute and do it all over again.
All of this just means I am still adjusting to the school routine.  So are my kids.  I am grateful it is Friday.  I am grateful to get to hang out with a friend tonight.  I am grateful that we get to have moments like these sumer outings, where we soak up the little things.
 What will the weekend bring you?